Todos Santos: A Women's Leadership Retreat
The Are of Becoming You
October 27th - November 1st, 2023
Todos Santos, Mexico
A Collab with Global Yoga Teacher and Astrologer Dana Damara and Dr. Sarah Rothman, ND, L.Ac
So excited and such an honor to be retreating again with Dana Damara. This one is going to be so potent. All women. Co-creation, Collaboration, and Connection. Leadership, Empowerment, and Embodiment. Leveling up together. Holding space for and being held by each other. Evolution and Acceptance. Honoring all of who you are. Taking up the right space. Women's Wellness- Body, Spirit, and Heart.
More Info & Registration: CLICK HERE
---
Maui: A Couple Breathwork and Connection Retreat
JUST BREATHE - Couples Retreat Maui
May 5th - 10th, 2024
Co-Hosted by Beth Wylie, MA, LMFT & Dr. Sarah Rothman, ND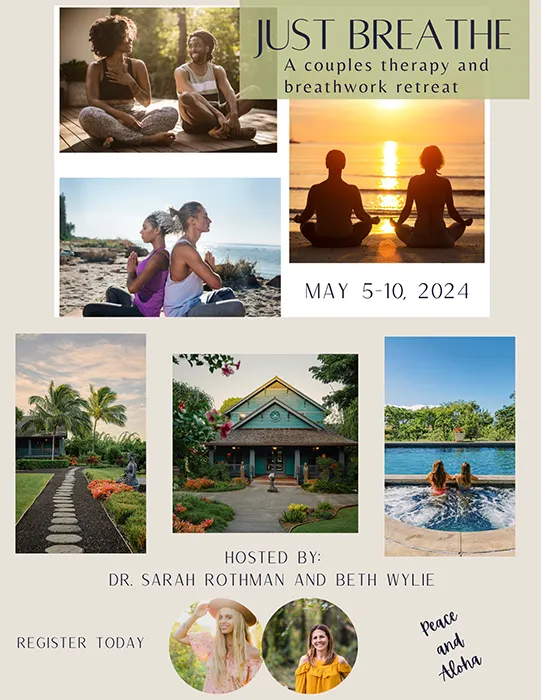 Join us for a transformative retreat on the beautiful island of Maui. This special event is designed for couples to deepen their connection, re-iginite passion, and intimacy, heal past wounds, and learn tools to enhance relationships and love. Through guided breathwork sessions, couples therapy sessions, and other fun and alchemical practices, join us to connect deeper in your relationship and in community with an intimate group of other couples.
CLICK HERE for more information & registration.
---
Retreat in Collab with Lumeria Educational Retreat Center
The Art of Radical Self Love
June 9th-12th, 2023
More Info & Registration: CLICK HERE
Kamaaina/Maui Resident Rates
---
View one of our past retreats: